'Chasing Light'
Inspired by the beauty of the north coast, my work features bold sunsets, dramatic cloud and energetic water; each piece a truly unique expression of our stunning coastline. I invite you to explore the beauty of Northern Ireland with me.
About me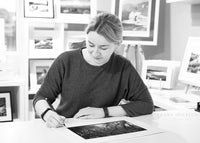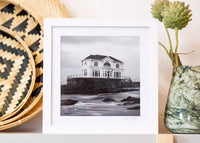 Happy Home.
"I like my work to evoke an emotion – to make someone smile or to bring them back to their own happy place." 
Shop
Testimonials
'Beautifully presented with a handwritten note telling me about the picture. This was a gift for someone, they love it too but I was so tempted to keep it! Gorgeous!!'

Donna
'I bought five prints from Laura when I moved into my first home. Laura was fantastic with helping me understand which ones went together and how they could be arranged for maximum effect. Not only are the prints stunning but Laura was so helpful and knowledgeable! Every time I look at the prints it reminds me of home. 

Ashley
'Absolutely delighted to find a photo with the same backdrop as one of our wedding photographs. We thought Glenariff Waterfall was a beautiful location too, thanks Laura!'

Joanne
'Laura is so helpful. Her photos are very different to the usual North Coast photos, so if you're looking for something just a little bit different go for Laura. I have bought three photos from her for my son who lives in Scotland and he loves having that wee piece of home with him.'

Zenia
'I love Laura's photographs. Not only does she visit all my favourite places on the North Coast, her use of natural light and the stunning clarity of her photographs make her, by far, my favourite photographer. Thanks to her new website I'll soon need a bigger 'Laura McIlveen wall' in my house!'

Julianne
Location
My store
Makers House, The Designerie, 88 Main Street, Bushmills, BT57 8QD.
Mon - Fri, 10am - 5pm
Saturday, 10am - 5pm